Ramy Doron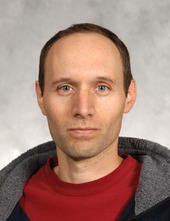 Contact Information:
Tel: 972-8-9342211
Fax: 972-8-9343491
Bldg.: K.B. Weissman Institute of Physical Sciences
Room: 132
Email: Ramy.Doron at weizmann.ac.il
Major research interests:
List of publications:
2023
C. Stollberg, E. Kroupp, D. Mikitchuk, P. Sharma, V. Bernshtam, M. Cvejić, R. Doron, E. Stambulchik, Y. Maron, A. Fruchtman, I. E. Ochs, N. J. Fisch, and U. Shumlak

Observation of fast current redistribution in an imploding plasma column

Maron, Y., Doron, R., Cvejić, M., Stambulchik, E., Mikitchuk, D., Stollberg, C., Queller, T., Kroupp, E., Rosenzweig, G., Rubinstein, B., Biswas, S., Bernshtam, V., Nedostup, O., Litmanovich, V., Fisher, V., Starobinets, A., Fruchtman, A., Fisher, A., Tangri, V., Giuliani, J. L., Velikovich, A. L., Dasgupta, A., Ochs, I. E., Kolmes, E. J., Mlodik, M. E., Davidovits, S., Fisch, N. J., and Johnston, M. D.

Spectroscopic determination of magnetic fields in pulsed-power and high-energy-density plasmas
2022
Cvejić, M., Mikitchuk, D., Kroupp, E., Doron, R., Sharma, P., Maron, Y., Velikovich, A. L., Fruchtman, A., Ochs, I. E., Kolmes, E. J., and Fisch, N. J.

Self-generated plasma rotation in a Z-pinch implosion with preembedded axial magnetic field

K. W. Hill, L. Gao, B. F. Kraus, M. Bitter, P. C. Efthimion, N. Pablant, M. B. Schneider, D. B. Thorn, H. Chen, R. L. Kauffman, D. A. Liedahl, M. J. MacDonald, A. G. MacPhee, H. A. Scott, S. Stoupin, R. Doron, E. Stambulchik, Y. Maron, and B. Lahmann

Study of Stark broadening of krypton helium-β lines and estimation of electron density and temperature in NIF compressed capsules
2021
2019
2018
Patel, S. G., Johnston, M. D., Webb, T. J., Bennett, N. L., Welch, D. R., Gilgenbach, R. M., Cuneo, M. E., Kiefer, M. L., Leckbee, J. J., Mazarakis, M. G., Muron, D. J., Renk, T. J., Simpson, S. C., Doron, R., Biswas, S., Mikitchuk, D., and Maron, Y.

Zeeman spectroscopy as a method for determining the magnetic field distribution in self-magnetic-pinch diodes
2016
The structure of a magnetic-field front propagating non-diffusively in low-resistivity multi-species plasma

Doron, R., Rubinstein, B., Citrin, J., Arad, R., Maron, Y., Fruchtman, A., Strauss, H. R., and Mehlhorn, T. A.

Electron density evolution during a fast, non-diffusive propagation of a magnetic field in a multi-ion-species plasma
2014
R. Doron, D. Mikitchuk, C. Stollberg, G. Rosenzweig, E. Stambulchik, E. Kroupp, Y. Maron, and D. A. Hammer

Determination of magnetic fields based on the Zeeman effect in regimes inaccessible by Zeeman-splitting spectroscopy
2012
2011
2009
Magnetic Field Measurements in Plasmas: Beyond the Traditional Zeeman Spectroscopy
2008
High-electron temperature diagnostic of transient ionizing plasma using near-UV transitions
2007
Magnetic field propagation in a two ion species planar plasma opening switch

Electric fields in plasmas under pulsed currents
2004
2003
Osin, D., Arad, R., Tsigutkin, K., Doron, R., Starobinets, A., Bernshtam, V., Maron, Y., Fruchtman, A., and Fisher, A.

The role of the plasma composition in the magnetic field evolution in plasma opening switches

Use of Laser Spectroscopy for High-Accuracy Investigations of Relatively-Dilute Pulsed Plasmas with Nanosecond Time Resolution

Properties of relatively-dilute plasmas in pulsed-power systems obtained from high-accuracy laser spectroscopy

Temperature Measurements in the Solar Transition Region Using N III Line Intensity Ratios

Hard X-ray emission from laser-produced plasmas of U and Pb recorded by a transmission crystal spectrometer
2002
The X-Ray Spectrum of Fe16+ Revisited with a Multi-Ion Model

The Effect of High-lying Levels on Atomic Models Relevant to Spectroscopic Analyses of Solar Extreme-Ultraviolet Spectra

An Inquiry into the Nature of Spectra from Hot Astrophysical Plasma Abnormally Enriched with Mercury
2001
EUV Spectroscopy of Highly Charged Tungsten Ions Relevant to Hot Plasmas

X-ray Spectrum Emitted by a Laser-Produced Cerium Plasma in the 7.5 to 12 Å Wavelength Range

Dielectronic recombination from Ni-like Mo in singly-excited levels through the doubly-excited Cu-like 3d< sup> 9 4< i> ln?< i> l?(< i> n?? 9) complexes in dense plasmas

Visible and Near UV M1 Transitions within N-shell Ground Configurations of Heavy Ions Predicted to be Bright in Low-Density Plasmas

Intensity vs. Electron Density of the Ultraviolet M1 Transition in Xe 32+ , Gd 42+ , W 52+ , Bi 61+ , and U 70+ (Ti-like Ions)

Intensity Ratios between the 2s2 1S0-2s2p 3P1 and 2s2p 1P1-2p2 1D2 Transitions in Be-like Ions as Electron Temperature Indicators for Solar Upper Atmosphere Plasmas

Line and band emission from tungsten ions with charge 21+ to 45+ in the 45\char2170-\mathrmÅ range
2000
Effects of postcapture electron-ion collisions on dielectronic recombination demonstrated on Ne-like ions

Electron density dependence of dielectronic recombination in highly ionized atoms

Investigation of a laser-produced cerium plasma by the analysis of the high-resolution x-ray spectrum

A two-step collisional-radiative model for interpreting spectra originating from autoionizing levels
1999
X-ray Spectroscopic Measurements of Dielectronic Recombination of Highly Charged Krypton Ions

Doron, R, Behar, E, Mandelbaum, P, Schwob, JL, Fiedorowicz, H, Bartnik, A, Jarocki, R, Szczurek, M, and Wilhein, T

Spectroscopic signature of strong dielectronic recombination in highly ionized xenon produced by irradiating a gas puff with laser

A Ya Faenov, A I Magunov, T A Pikuz, I Yu Skobelev, S A Pikuz, A M Urnov, J Abdallah, R E H Clark, J Cohen, R P Jonson, G A Kyrala, M D Wilke, A Maksimchuk, D Umstadter, N Nantel, R Doron, E Behar, P Mandelbaum, J J Schwob, J Dubau, F B Rosmej, and A Osterheld

High-Resolved x-ray Spectra of Hollow Atoms in a Femtosecond Laser-Produced Solid Plasma
1998
High-resolution x-ray spectrum of a laser-produced barium plasma in the 9.10–9.36-angstrom wavelength range

General analytic formula for total dielectronic recombination rate coefficients of Ni-like ions

X-Ray Spectrum Emitted by Laser-Produced Barium Plasma in the 8 to 13.5 Å Wavelength Range

Channel-specific dielectronic recombination of highly charged krypton

Dielectronic recombination and excitation-autoionization in highly ionized heavy elements

In

AIP Conference Proceedings

No. 443 (1998), pp. 256.
1997
Dielectronic recombination of Ni-, Cu-, and Ar-like tungsten and barium through the low inner-shell excited configurations including collision processes
1995
Excitation-autoionization, dielectronic recombination and line intensities in highly ionized CuI-like ions
^ Top
Modified on: 2013-12-09
---